Feature Stories
Learning Commons is Most Used Electronic Resource Center at HCC in 2018-19
Dec 16, 2019
The Learning Commons at the West Houston Institute has proven to be a critical resource for HCC students, staff and faculty. During 2018-2019, there were 17,924 guest visits to the Learning Commons, making it the most used Electronic Resource Center of HCC Libraries.
As an information and innovative learning place, the Learning Commons has assisted professors in the creation of experiences that seamlessly bolsters students' information & digital literacy. It also has provided support and guidance for instructors in the use of innovative tools like the One Button Studio and the Digital Recording Studio.
As part of its service to the community, the Learning Commons addresses questions from all HCC guests and it has supported members of the community both in individual job search efforts, other research, and collectively in supporting training and professional development events.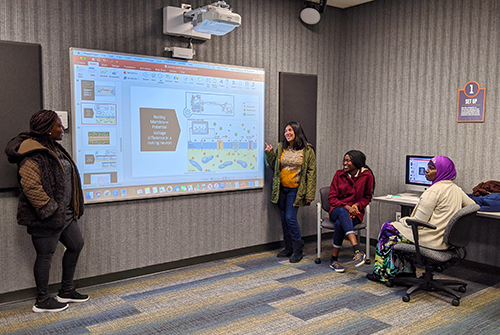 Students using the One Button Studio at the WHI Learning Commons




« Previous Article

| Next Article »