Success Stories - Southeast
Houston Community College, Office of Entrepreneurial Initiatives Sponsors "Spring 2018 Inventathon"
Oct 18, 2018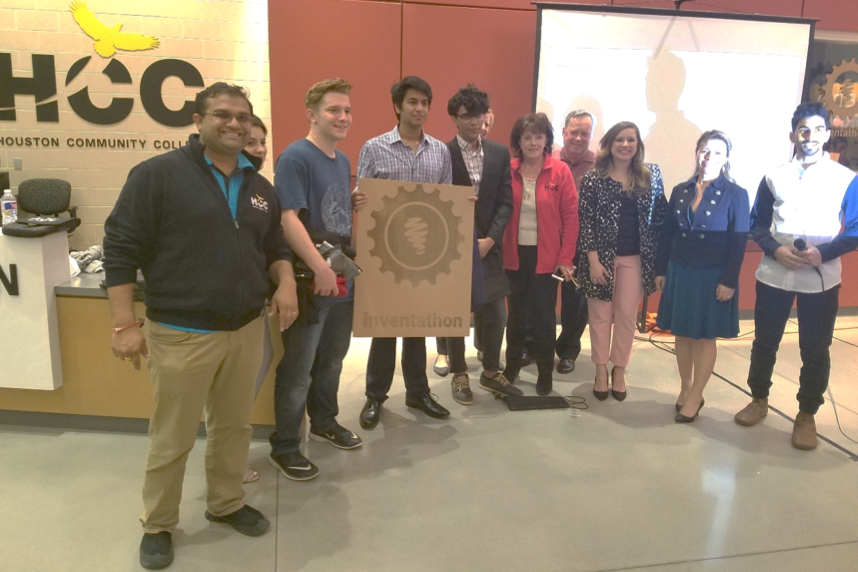 Houston Community College (HCC), Office of Entrepreneurial Initiatives/Center for Entrepreneurship at Southwest campus sponsored an "Inventathon Competition" for 120 middle and high school age students from Saturday April 14th through Sunday, April 15th 2018. Over the two full and fun filled days, students developed innovative solutions to save and conserve energy. Judges were stunned and delighted with the creative solutions!
Students utilized resources provided by HCC such as 3D printers, mentors, and additional resources from the Advanced Manufacturing Center in Stafford. There was a total of twenty inventions submitted by the students for judging and the winners received cash awards.
The first place winners are Saran Chockan (10th Grader) and Vibhor Kumar (9th Grader) two young inventors from Clements High School. They submitted an ingenious tool called "SkyPrint" which was aimed to save paper by preventing unnecessary ad and whitespace content from being printed. The tool's software coding was open sourced, which many anyone globally can use it to integrating it into their software with the ultimate goal of saving paper when printing online articles and content.
Second place winners are Raymond Nguyen, Varun Dixit, and Bill Rolph from Memorial High School who developed a creative submission that focused on "Bike Energy". They created and built a device system that replaced the regular brakes with a regenerative braking system. Making their regular bike into a generator capable of storing power and charging electronics.
The third place winners include Jefferson Yu (Elkins High), Amogha Pokkulandra (Quail Valley), Arjun Bhatia (Quail Valley), Keshav Shah (Dulles High), and Desai Sannidhya (Elkins High) who submitted "Energized Exhaust". This new invention 3D model produced ground-breaking energy through a chemical reaction between the CO2 and Lithium Nitride to fully neutralize gasoline engine emissions into safe breathable air.
The fourth place winners received a "Fields Award" which is dedicated to Mr. Roland Fields. These students include Manan Bhatia, Ibrahim Elsharkawy, and Elyas Stephens who all attend James E. Taylor High School. They invented a D size battery that charges itself when shaking.
HCC's manufacturing students and staff mentored the students and helped them perfect their presentation skills. The students enjoyed the event so much that a new Manufacturing Club at HCC was created for incoming college and high school students. This new student club and the strong interest from the students will help HCC keep the momentum going as student turned their inventive ideas into reality.



« Previous Article

|