JPMorgan Chase commits $3.3 million for disaster resilience and workforce collaborative led by Houston Community College
Dec 7, 2022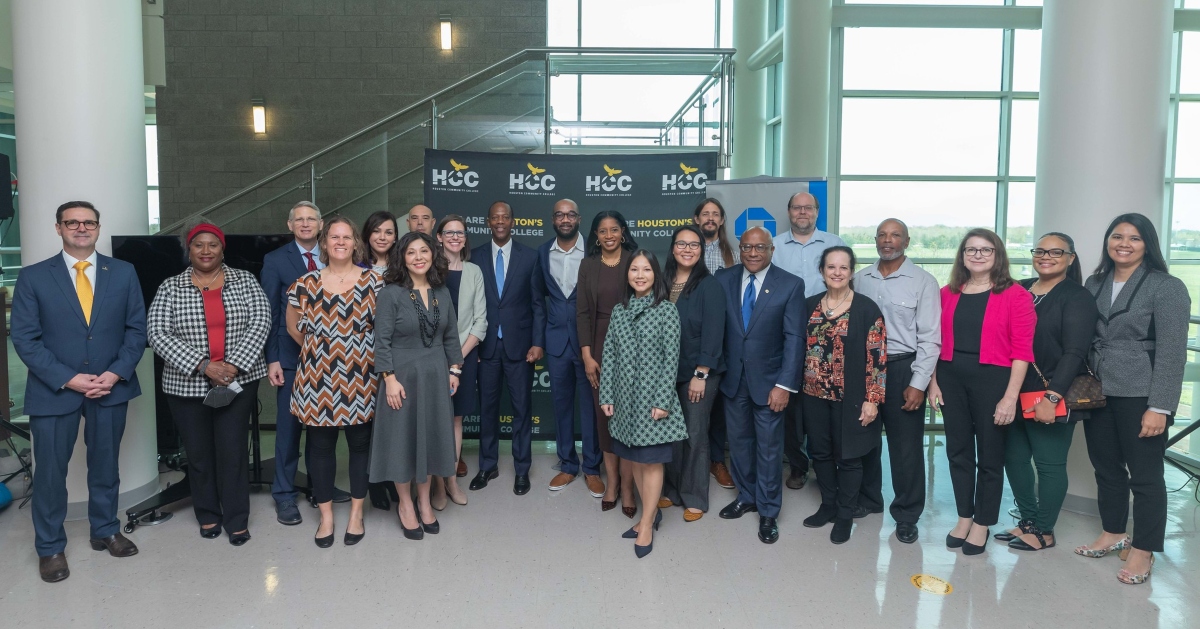 A new workforce collaborative uniting 17 local community partners to offer resiliency career training will receive part of a $3.3 million investment from JPMorgan Chase. Local community partners will receive $1.8 million of the total investment and remaining dollars will support various climate and sustainability initiatives in Houston.
The announcement was made by Dorian Cockrell, vice president, Global Philanthropy, JPMorgan Chase, at HCC's Northeast College, future home of the college's $35 million Resiliency Operation Center, called "the ROC."
The collaborative is among the first of its kind to bring Houston's public, private, educational and non-profit groups together to achieve two important goals:
Help prepare Houston for greater resilience in the aftermath of a natural disaster
Increase career opportunities for residents who come from some of Houston's most underserved and under-resourced neighborhoods designated as Complete Communities
"The Resilient Workforce Collaborative brings together the public sector, private sector, higher education institutions, and our nonprofit partners to make transformational change in our most underserved neighborhoods," said Houston Mayor Sylvester Turner. "The collaborative complements our efforts within the Complete Communities to prepare low-to-moderate income Houstonians for high-demand jobs and increase the diversity of candidates in the talent pipelines for green careers that will advance our city's resilience. This resourceful partnership is a welcomed addition to Houston's workforce development landscape."
See video from the event on our YouTube channel
The Resiliency Workforce Collaborative will be led by Houston Community College, which will provide the curriculum through its Resiliency Center of Excellence.
"This new Resiliency Workforce Collaborative is evidence of a growing commitment across the region that businesses and communities are partnering to improve Houston's ability to prepare, respond and recover from natural or man-made disasters," said HCC Chancellor Cesar Maldonado, Ph.D., P.E. "The future looks bright as we work together to build the resilient workforce Houston needs to thrive and prosper."
Collaborative members are: Houston Community College, City of Houston, Harris County, Workforce Solutions Gulf Coast, Resilience Innovation Hub, American Youth Works, WorkTexas, TRIO Electric, TRIO Education, Memorial Assistance Ministries, South Union CDC, Impact Hub Houston, Neuhaus Education Center, TXRX Labs, Volunteers of America-TX, Wesley Community Center, and JPMorgan Chase.
The job sectors will include clean energy, disaster response, resilient jobs, utilities, trades and manufacturing. Graduates will receive recognized training certificates and U.S. Department of Labor registered apprenticeships.
Significant employers have already lined up to be Anchor Champions and provide job opportunities for the graduates. They include The City of Houston, Harris County and TRIO Electric.
An important element of the collaborative is employers changing some of their hiring practices to emphasize specialized training certificates over traditional 4-year degrees.
"This collaborative provides a 'go-to place' for Houstonians to learn skills that will lead to good paying jobs. It is a better system because it's set up to fulfill needs that already exist in the workplace," said Cockrell.
The collaborative is seeking more funders and more employers to support the growth and success of the effort.
"HCC has embraced a vision to train half a million Houstonians to help mitigate the loss of life and property when impacted by weather or man-made disasters," Chancellor Maldonado said "Soon the college will break ground on a $35 million Resiliency Operations Center to train people from across the region in real-world emergency rescue techniques."
In leading the Resiliency Workforce Collaborative, HCC will offer new certificates and credentials in resiliency-related fields across its 22 learning locations throughout Houston. Initial courses began in fall 2022.
JPMorgan Chase has committed $1.5 million in five local community projects to help Houston and its most vulnerable neighborhoods deal with the disproportionate impacts of the increased pace of natural disasters. Those recipients were: Greater Houston Partnership, American YouthWorks, Texas Southern University's Center for Environmental and Climate Justice, Resilient Cities Catalyst, and Northeast Houston Redevelopment Council.



« Previous Article

| Next Article »